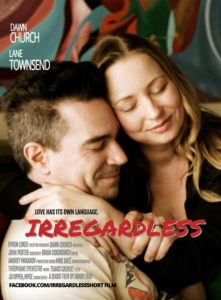 I had a great time working with this an amazing crew, this shoot could not have been any smoother and timely! I'm amazed and proud of everyone's hard work, commitment, and talents. Thank you, it's been a pleasure working with you all on this project.
We are proud to say we shot "Irregardless", a short romantic comedy, filmed in Hermosa Beach, Los Angeles, on a shoestring budget thanks to the resourcefulness and talent of producers Dawn Church and Byron Loker, actors Dawn Church and Lane Townsend, director/editor Randy Ruiz, written by John Porter, cinematographer Mike Dazé and sound recordist Andrey Makarov. Titles by Travis Calvert, Editor Brian Uskokovich, and composer Théo Phane. SAG-AFTRA Film
Watch the Facebook Irregardless movie page for further developments.
"Irregardless"
Married couple Sue and Ed Mitchell are clearly devoted to each other but can their love overcome a critical language barrier?
IMDb: http://www.imdb.com/title/tt7797870
Thanks for your continued support!